Click Here: Printable MEDIQA Brochure
Description: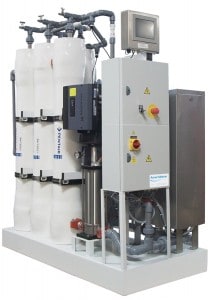 The MEDIQA system uses proven reverse osmosis technology combined with heat disinfection to provide a unique combination of performance, reliability, and functionality. This fully integrated water purification solution when coupled with pre-treatment and PEX distribution pipework makes a complete system.
Features:
Single and Dual pass membrane configurations provide maximum flexibility in water quality. Units can be configured to run in multiple combinations to provide redundancy.
Automated heat disinfection of RO membranes provides, system efficiency and labor savings. This ensures that any potential bacterial growth on membrane surfaces is minimized.
 Full color touch screen with comprehensive menu navigation, including full schematics and advanced data logging technology with password protection.
Advanced data logging technology with password protection, information available via an integrated touch screen display or downloaded to Excel. Stored data includes active status indicators, alarm conditions, and performance logs.
8″ TFC membranes in FRP vessels for durability
Compact, powder coated aluminum skid mounted package.
Standards:
FDA 510K / ISO 13485 Registered Medical Device
Health Canada Medical Device License 90626
Entire device conforms to IEC UL standard 61010-1